Could the simple laws of physics be applied to the cannabis sector? Namely, as 2019 showed, marijuana stocks that go up – way up – can have the equal and opposite reaction, and go down – way down. But will they rebound?
That is what many who are watching the sector closely are asking. And perhaps more to the point, which stocks will rebound? And which ones won't?
Also, for those pot stocks that have shown early signs in 2020 that they have a second bounce in them, will that resurgence have significant and lasting sustainability?
Cannabis Stocks That Regained Some Traction In January:
Canopy Growth (NYSE:CGC), (TSX:WEED), by far the biggest marijuana grower in North America, has shown indications it is one of the rebounders. In the first half of January, the stock was on a steady gain, hitting a 2020 high of US$25.48 (C$33.19) on Jan. 15, a 20.5% jump from where it opened on Jan. 2.
But in the latter half of the month, it has lost some ground. It closed down yesterday, at US$21.56 (C$28.39) to bring its year-to-date gain to 4.8%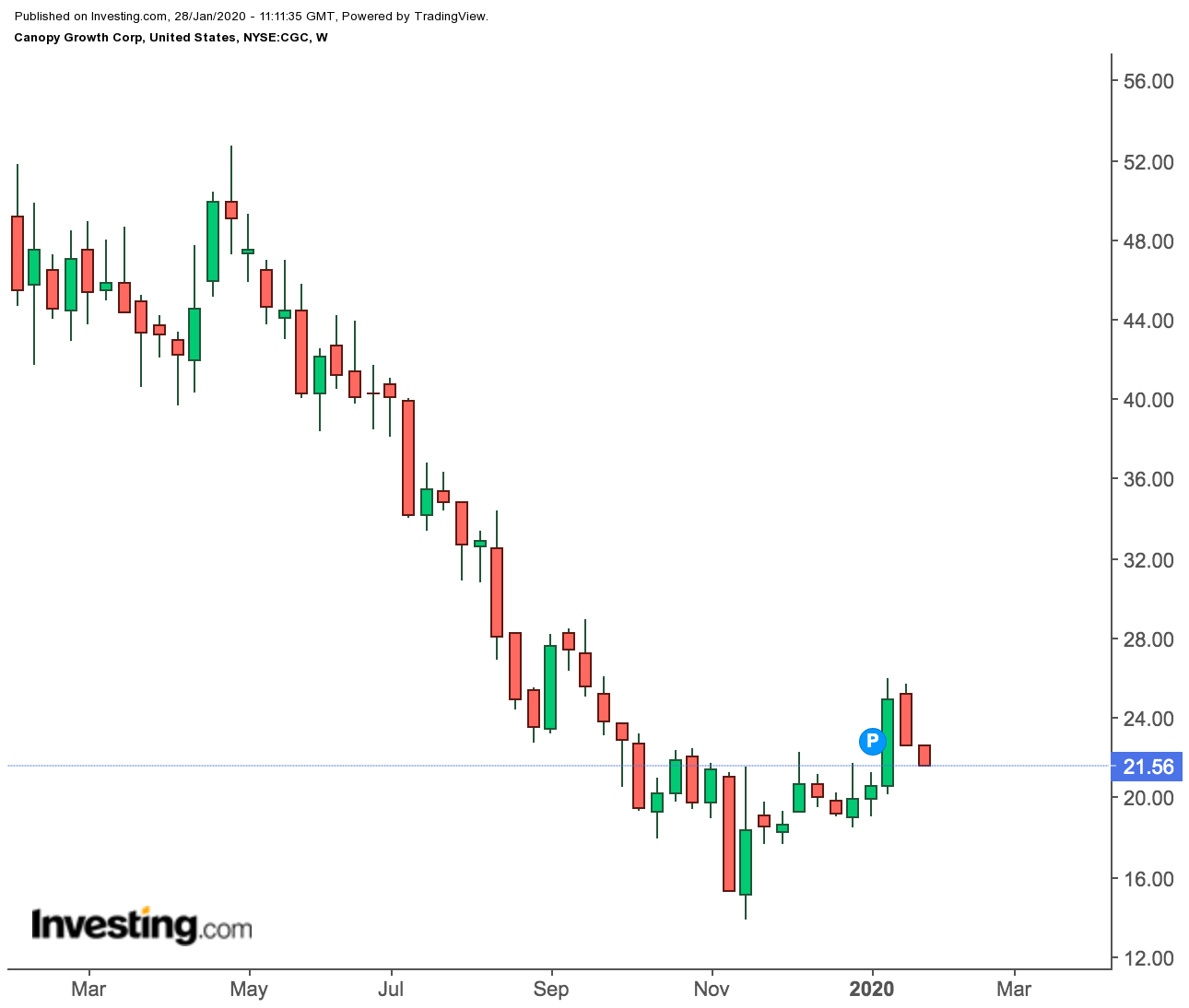 Tilray (NASDAQ:TLRY), the Toronto-based grower that is only traded on the U.S. Nasdaq exchange, has fared even better with its 2020 bounce. In the first half of January, its stock gained more than 34%, hitting US$22.29 on Jan. 15, a high for the year to date. Like Canopy, however, it has since lost some ground, closing yesterday at US$19.56, leaving it with a respectable 17.9% gain so far this month.
But other big names in the pot sector are not showing any sustainable 2020 bounce. Like Canopy and Tilray, Cronos Group (NASDAQ:CRON), (TSX:CRON) and Hexo (NYSE:HEXO), (TSX:HEXO) showed promise in the first half of January, but both have seen the early stock price gains evaporate as the month draws to a close.
Shares of the Ontario-based Cronos Group opened the year at US$7.53 (C$9.79), reached a high for the month of US$8.80 (C$11.48) on Jan. 15, and closed yesterday down 4.35% for the day at US$7.25 (C9.57) for an overall drop of 3.7% for the month.
Over at Hexo the numbers were worse. After a horrible 2019, that saw the company stock lose about 70% of it value, the shares opened in 2020 at US$1.60 (C$2.08), gaining 20% by Jan. 15. They closed yesterday down 5.67% at US$1.33 (C$1.75) for a drop of 16.87% so far this month.
Evolve To Drop Two Marijuana ETFS
Perhaps another sign of a lack of hope in any rebound in cannabis stock prices this year came yesterday from the Evolve Funds Group, which announced it will close two of its cannabis stock ETFs – the Evolve Marijuana Fund (TSX:SEED) and the Evolve US Marijuana ETF (NLB:USMJ).
Evolve is a relatively new, but fast growing Canadian ETF provider. Its Evolve Marijuana Fund contains 10 mostly Canadian-based marijuana stocks, while its Evolve U.S. Marijuana Fund contains a mix of 10 Canadian and U.S. stocks that are traded on American exchanges.
The company did not provide a reason for terminating the funds, which will be delisted at the end of March.
MediPharm Stock Dives On Court Action News
Shares of MediPharm Labs Corp (OTC:MEDIF), (TSX:LABS) took a walloping yesterday, losing more than 18%, to close at US$2.32 (C$3.03). The drop came on the news the Canadian-based company released late last Friday evening that its subsidiary, MediPharm Labs Inc., is suing another Canadian licensed producer for non-payment of C$9.8 million (US$7.4 million) for private label cannabis oil.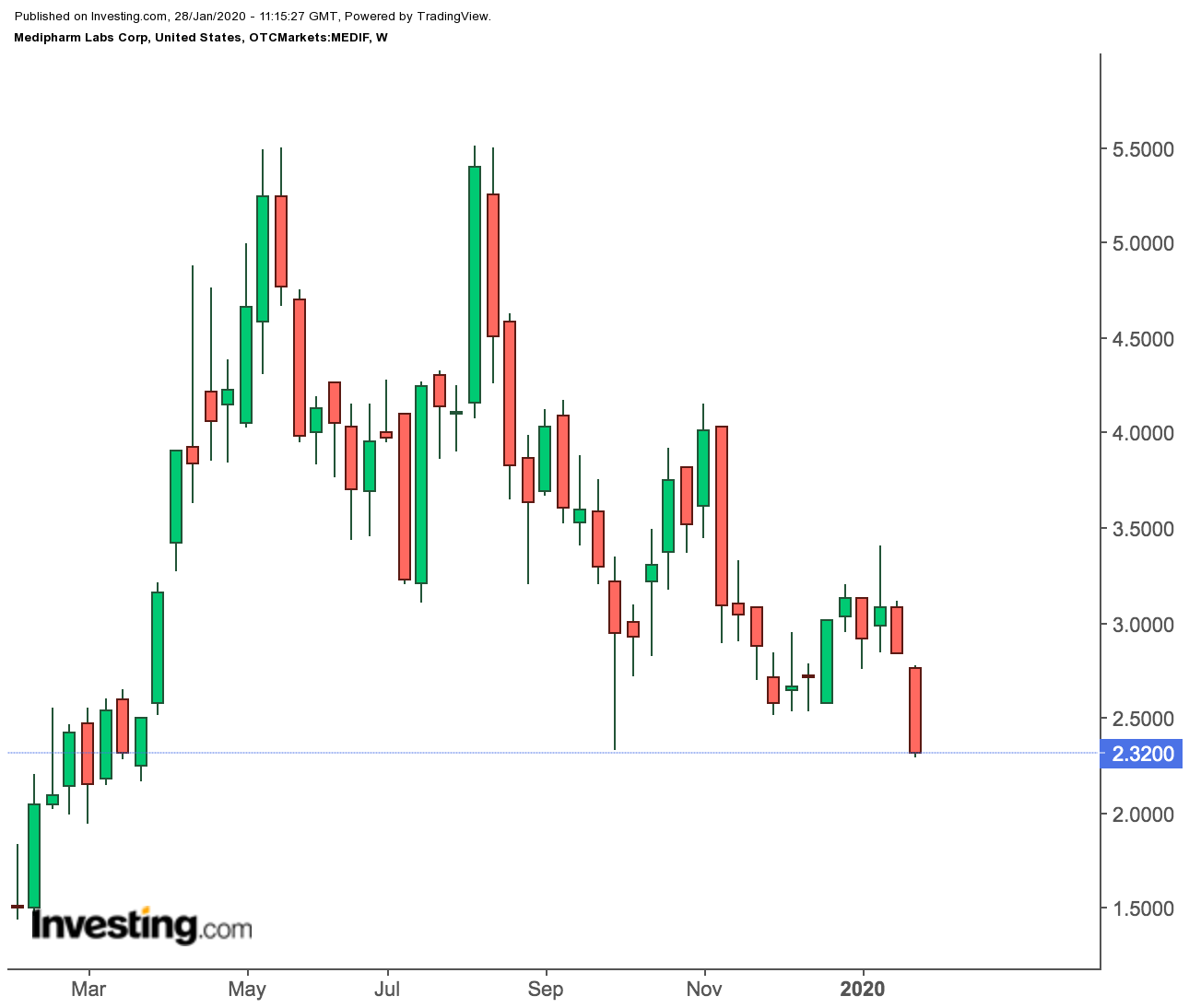 The suit, filed in Ontario Superior Court, claims the producer has been working with MediPharm since last February. A report from BNN Bloomberg claims the undisclosed target of the suit is Quebec-based Hexo Corp.
According to a statement released late last Friday, MediPharm said "the claim relates to, among other things, the payment of outstanding amounts of approximately $9.8 million."
MediPharm struck a deal last year with Newstrike Brands said to be worth $35 million (C$46.2 million) in the first year. The contract also included an option for an additional $13.5 million (C$17.8 million) in product if needed. Hexo acquired Newstrike last March.
MediPharm's last financial earnings report issued in November, which covered the three-month period ending Sept. 30, 2019, showed it had $40.87 million (C$54 million) in receivables, up substantially from the $6.4 million (C$8.5 million) at the end of December 2018.
MediPharm specializes in the production of purified pharmaceutical quality cannabis oil and concentrates used in a variety of derivative products.