Now, with 4/20 here – the high holy day of the cannabis industry – a lot of investors are starting to turn their attention to pot stocks. And we have a number of producers reporting earnings in the coming weeks. But those are just two of the catalysts for the industry.We're also in the midst of what I call "Pot Smoking Season" here in the U.S. This kicks off every year in March and stretches to September.
We'll use Colorado's monthly sales as an example…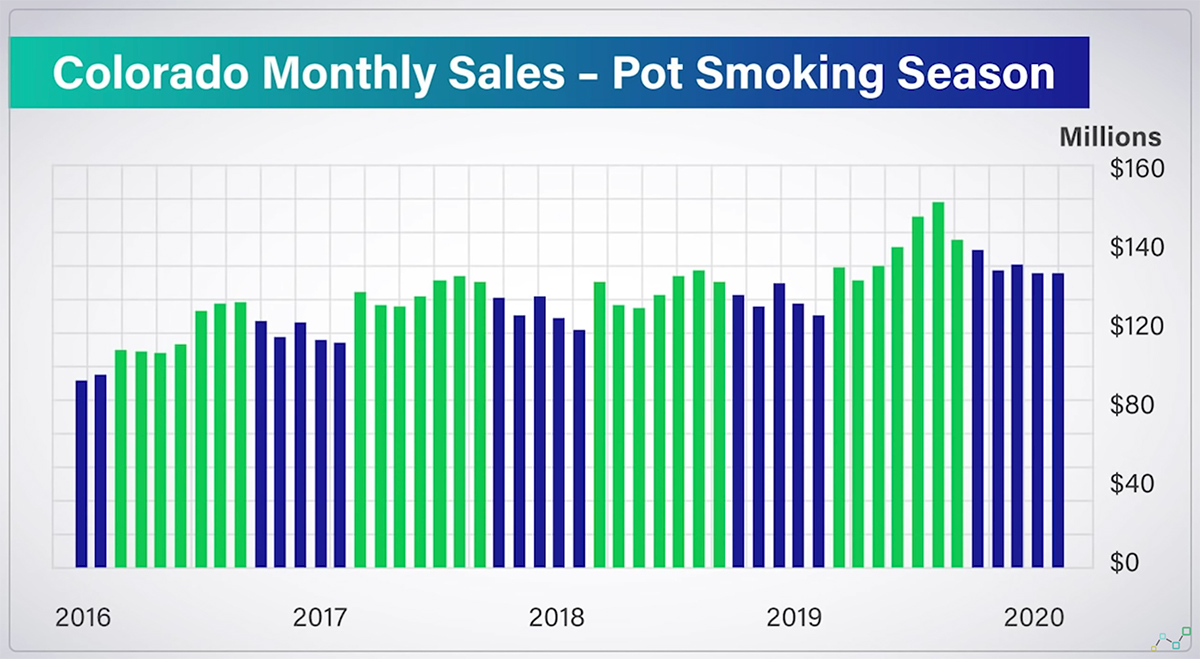 Each year, after declining from October through February, sales surge in March and set a new record. And they'll largely move higher from there before setting a new record in August or September. Then they decline.
A Few Things I Want To Point Out…
First, these official sales totals are lagging by about a month. So, as of yet, Colorado hasn't posted official totals for March. Second, April is never a record year for sales, even in the U.S.' most established legal market – Colorado. 4/20 has an impact on individual day's consumption and sales. But not for the entire month. That's the main takeaway to keep in mind.
Three, this year is real funky because of the COVID-19 pandemic. We know shares skyrocketed in the first couple weeks of March as marijuana hoarding took hold. But they then plummeted… like all other retail sales…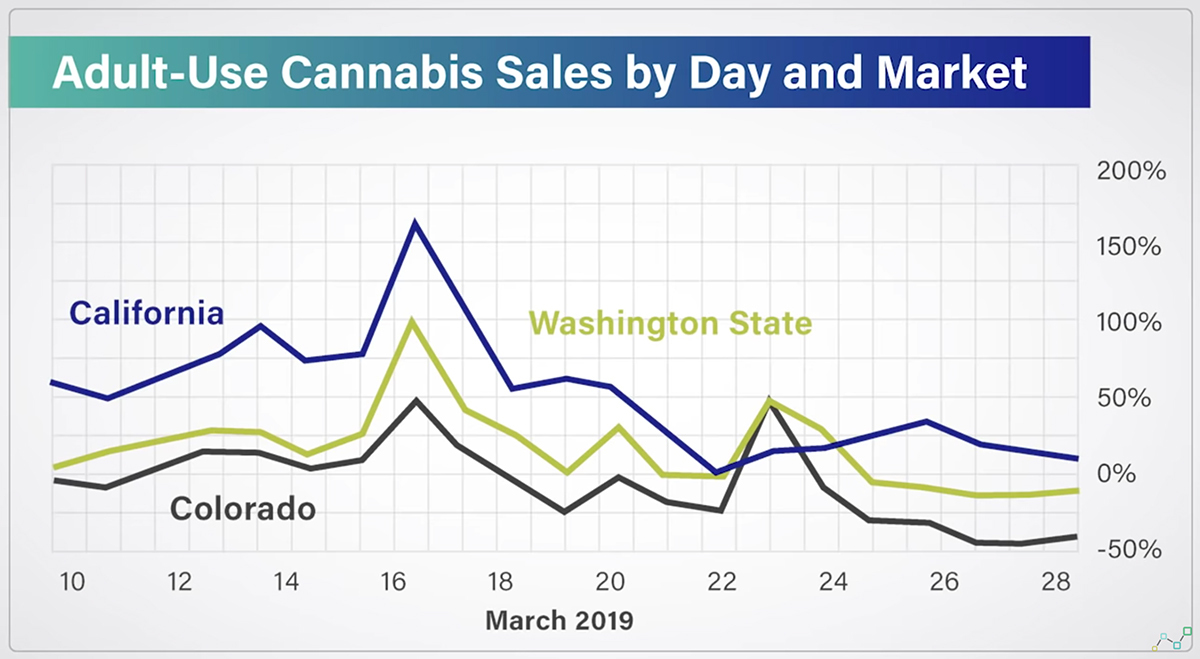 So, with all that in mind – what do investors need to know about 4/20 and how it impacts pot stocks? Well, if we look at how the U.S. Marijuana Index has performed during the six months following 4/20 we get hit with what looks like a bit of a Debbie Downer…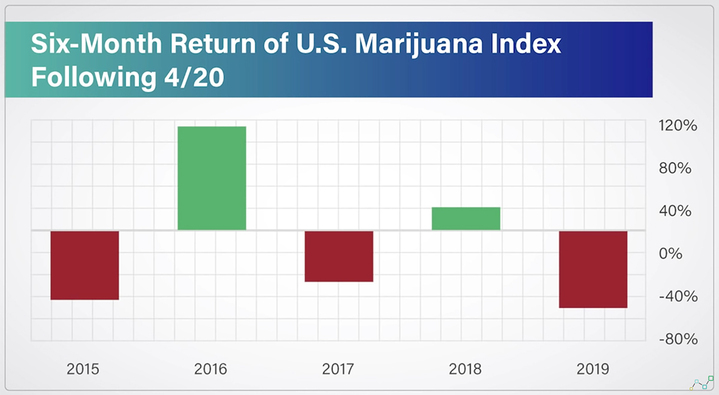 Be Selective With The Pot Stocks You Invest In
The index has tumbled 29% or more three out of the past five years during the stretch from 4/20 to October 20. And the 5-year average return of this index from April 20 to October 20 is 6.26%. Now, that doesn't sound great… But it is considerably better than the 1.56% return from October 20 to 4/20. With all that in mind that doesn't mean it's a time to rush out and gobble up a bunch of cannabis shares. Because there are some very serious concerns and investors need to be selective. The broader bear market has ignited a great reversal in pot stocks.
Over the last several years, the one unimaginable happened – marijuana companies were listed on the major U.S. exchanges the NYSE and Nasdaq. But now we're starting to see this go the other way. A few weeks ago on Profit Trends I wrote about several cannabis companies investors need to steer clear of because of the threat of delisting.
There are plenty of reasons a company could see its stock delisted. But the most common is share price. The Nasdaq and New York Stock Exchange (NYSE) require the average closing price of a listed company's common shares to be at least $1 over a 30-day consecutive period. If shares don't meet that requirement, the exchange can issue a deficiency notice. Companies will then have 180 days to bring their stocks back up to $1.
6 Pot Stocks To Avoid:
While looking at pot stocks to invest in, here are 6 to avoid.
22nd Century Group (NYSE: XXII)
Aurora Cannabis (NYSE: ACB)
CannTrust
Hexo Corp. (NYSE: HEXO)
India Globalization Capital (NYSE: IGC)
22nd Century Group (NYSE: XXII)
Since then, CannTrust has been delisted. Aurora Cannabis is doing an awful 12-for-1 reverse spilt to bring its share price up. That means for every 12 shares of ACB you own, you now have 1. IGC has been trading below a $1 since October. It was already delisted once in 2018 but won an appeal last February. It seems bound for delisting once again. And I would also add cbdMD (NYSE: YCBD) to that list to be concerned about.
I also want to add, there is a major issue facing cannabis companies in the U.S. They are deemed essential businesses – so, dispensaries are open. But because cannabis is illegal at the federal level, they are ineligible for any of the trillions of dollars the Fed and the government are using to prop up the economy. Sure, bailout airlines who have spent billions upon billions on share buybacks to inflate their earnings… but leave dispensaries that provide a medicine for patients out in the cold.
This is a situation where Washington is choosing which industries get to survive. And legal weed didn't make the cut. That's why investors need to be extra careful and not get caught up in any hype. I get it, that's a lot of negativity. Well, there are three pot stocks I think investors should pay attention to and consider:
3 Pot Stocks To Invest In
Canopy Growth Corp. (NYSE: CGC) – the company is the biggest and the baddest in Canada, and the world. It's the goliath – the Apple of the cannabis world in a sense – sitting on the top premium brands. Shares under $15 are nutty.
Trulieve (OTC: TCNNF) – while everyone else in American cannabis industry were growing at all costs, buying up smaller competitors, in a two-year M&A frenzy to expand their footprints to as many states as possible…which eventually imploded and many of those deals getting canceled…Trulieve focused on one market – Florida. The company controls more than 50% of the Florida medical market. And even though COVID-19 is flushing everything down the toilet, Trulieve is seeing medical sales remain strong.
Innovative Industrial Properties (NYSE: IIPR) is a real estate investment trust serving the medical marijuana markets. Like Canopy and Trulieve, this is one of my favorite cannabis companies. It currently pays a 5% dividend yield. No other pure cannabis play is paying dividends. And shares are down almost 50% from their 52-week highs.
This 4/20. I'll be doing my usual – playing Robotron 2084, Pepper II and NBA 2k.
For investors, pot stocks are exceptionally volatile – and will be especially so this year. That means there are companies in threat of being delisting that they should due extreme due diligence if they're considering. But there are still plenty of awesome opportunities – like Canopy, Trulieve and IIPR – that can be snagged for the long haul.